Mountain Bike Backpack - 10001207
Builder Pack 40L
Regular price $190.00 Sale
Dakine Builder Pack 40L
The ultimate Dakine Builder Pack is designed specifically for mountain bike trail builders. This 40-liter pack carries everything you need, from hydration, snacks, gloves and first aid, to the trusty old 5-gallon bucket, with external straps for a quiver of longer tools, even that trusty chainsaw has dedicated stowage. The Builder Pack is Dakine's ode to the art of trail building, reworked from the original design released over a decade ago. The Builder Pack is designed right here on the Hood River trail system.
2445 cubic inches [ 40L ]
22.5 x 13 x 12" [ 57 x 33 x 30cm ]
4.3 lbs. [ 1.9kg ]
If your Dakine bag gets dirty, we recommend hand washing with mild soap (like Nikwax Tech Wash), cold water and a soft bristle brush. If hand washing is not going to do the trick, use a front loader washing machine. To ensure your backpack doesn't get tangled, place inside a pillowcase or mesh bag before washing. Always use cold water, mild soap and run on a gentle cycle. Never bleach your pack. Hang to dry in a warm but shady place, ensuring both inside and out are dry before storing.
Limited Lifetime Warranty
6mm AL internal frame for stable carry
Converts to flatbed for construction bucket carry
Expandable chainsaw pocket
Quick access lopper sleeve
Vertical hand tool carry (holds 4 tools)
Multiple storage pockets for tools, water, fuel, first aid
Fleece-lined sunglass pocket
Hydration compatible
Integrated rescue whistle / sternum strap
Tested & Trusted
Slideshow
Other top rated products
4.7
4.7 star rating
35 Reviews
Thank you for posting a review!
We value your input. Share your review so everyone else can enjoy it too.
Thank you for posting a review!
Your review was sent successfully and is now waiting for our staff to publish it.
Filter Reviews
Size
Bag
Material
Pockets
Construction
Build
Pockets
Construction
Build
5 star rating

4 star rating

3 star rating

2 star rating

1 star rating
Do Work
Review by Billy D. on 11 Jun 2020
review stating Do Work
This is the bag to have riding a bike down a hill to build a jump with a saw on your back. The saw is in a 5 gal bucket btw. Pretty happy when I finally got my own.
On Builder Pack 40L
Confusion Incorrect Discriptions
Review by Troy H. on 23 May 2020
review stating Confusion Incorrect Discriptions
I purchased this pack with hopes that it would work with my Stihl 311 chain saw. When I got it my chain saw barely fit in the pocket to say the least. It needs elastic or relief cut outs so that it can fit variable sizes of saws not just small chain saws. Its also been advertised showing it comes with a nail pouch, but it doesn't. I tried contacting Dakine got a response which made no sense and tried contacting them again to no avail. Pack needs to be a tad smaller and have a large chain saw pocket, come with a bladder and clip on the straps for the drinking tube. Some one that actually does trail building should design it.
On Builder Pack 40L
Awesome Pack!
Review by Jordan D. on 19 May 2020
review stating Awesome Pack!
So far this pack has been great for riding with my 20v Dewalt chainsaw. Lots of zipper pockets and durable! The one thing that needs some work is the shovel holder. The handle slides back and forwarded in the compression straps. I think there needs to be a separate loop for the handles. Otherwise great pack!
On Builder Pack 40L
Burly comfortable and versatile
Review by Josh F. on 11 May 2020
review stating Burly comfortable and versatile
I've only used this pack a handful of times so we'll see how it holds up but so far it's been great. Materials, zippers, construction seem very durable. It's remarkably comfortable to carry a chainsaw through the woods on the back of a dirt bike. All of the pockets make it very easy to organize and locate gear right when it's needed ( like the first aid kit to treat a head wound on its second use). I love the bright handles that make them super easy to locate. Have not hauled any long tools yet. Only suggestion I would have would be an axe specific carrying system. Overall, it's a great pack and I would highly recommend.
On Builder Pack 40L
Doesn't fit 50cc saw well
Review by Todd W. on 7 May 2020
review stating Doesn't fit 50cc saw well
This pack is so close to perfect. I mainly do chainsaw work and this pack is just a little too small to fit my STIHL ms261. I can carry it, but it sits high. If the saw pocket were just a bit bigger it would make carrying my saw much more comfortable. To me a 50cc saw is the perfect size. Anything smaller and large trees would take forever to cut and larger is to heavy to carry far, so I wonder why it wasn't designed to hold one. On the rare occasions when I need my big saw (ms462 70cc with a 24" bar) I either shoulder carry and walk or have to take the bar off and put it in the main compartment if I want to ride.

My only other complaint is long handled tool (shovels and such) carrying system isn't great. The tops flop around and the bottom pocket should be height adjustable.

Other than that the pack is awesome. It's well built and should last awhile. I've unzipped it to carry boulders inside the main compartment. It carries weight well (I've had 80lbs in it for short carries) I typically carry about fifty lbs when doing solo work with an ms261, Pulaski, water, fuel, etc... it's not uncomfortable. Tons of pockets fur organization.
On Builder Pack 40L
Nice, but
Review by Erik M. on 30 Apr 2020
review stating Nice, but
For some reason my pack could not fit a 5 gallon bucket, bummed. I struggled and fought with the bag to make one fit, but to no avail. Other than that, nice pack. Utilitarian. It's always difficult when going from one pack brand/model to a new pack (new organization scheme). Two or three more small pockets would be nice. Something for a clinometer. Knife...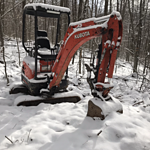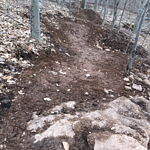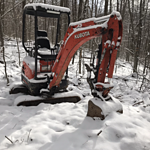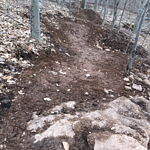 On Builder Pack 40L
Must have for trail builders.
Review by Blake M. on 28 Apr 2020
review stating Must have for trail builders.
Works awesome with a bucket. Holds branch/root trimmers. Tons of snacks, which is mandatory. Haven't tested out the chainsaw/fuel pouch, but it's a decent size. The hand tool drop down works awesome for varying 2-3 tools, I've carried shovel, rake and McLeod. Dunno about riding with it with the tools in the drop down as the work ends are close to your head??? Could use a better way to secure them when using the drop down so they are lore secure, possibly a loop/cinch strap in line with the drop down holder, but at centre line of the pack is my only suggestion. 100% recommend for builders.
On Builder Pack 40L
Im a First Responder and
Review by Ricky I. on 11 Apr 2020
review stating Im a First Responder and
Im a First Responder and I use the builder Pack as part of my equipment for daily operations. No complaints GREAT PRODUCT!!
On Builder Pack 40L
great bag!
Review by Carlo A. on 28 Mar 2020
review stating great bag!
great bag!
On Builder Pack 40L
Someone thought this through
Review by William R. on 8 Jan 2020
review stating Someone thought this through
Having worked a career in trails and wild land fireI have gone through a bunch of pack. Never has a pack checked off so many boxes of functionality. It carries fuel and oil and a chainsaw well. Being able to carry a five gallon bucket is a plus . Thanks for a well designed trail workers pack.
On Builder Pack 40L